Eternal Ways News & Reviews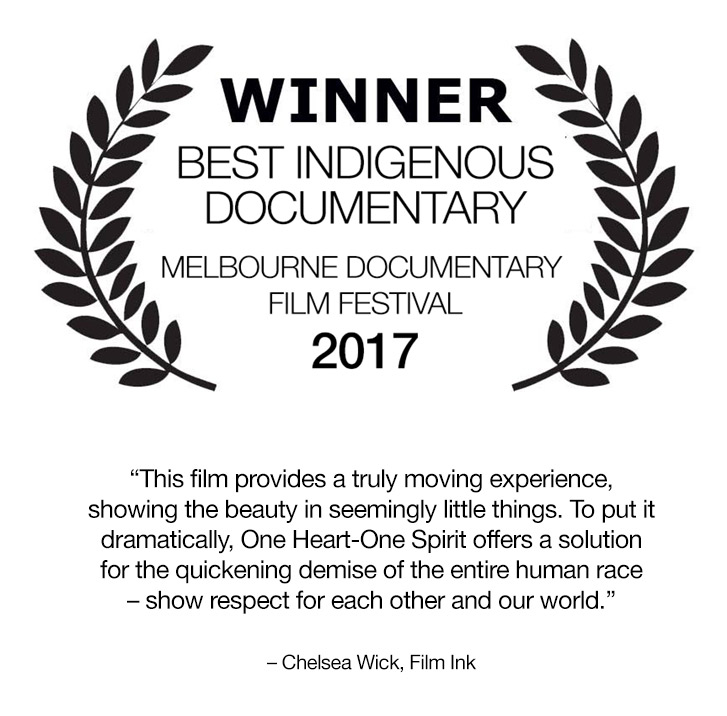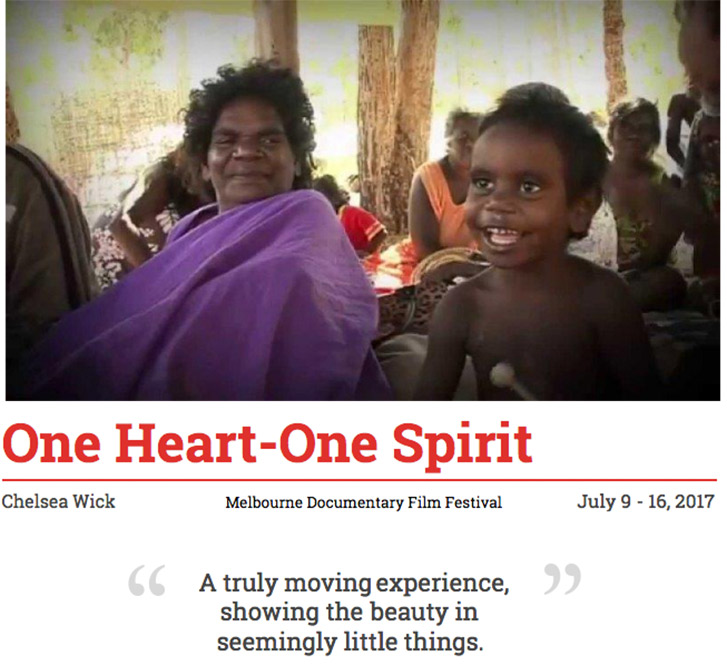 John Pritchard and Greg Reeves' Aboriginal Australian/Native American documentary, One Heart-One Spirit provides an immersive glimpse into the life and spirituality of the Northern Australian Aboriginal Yolngu nation. 40,000 years old and one of the world's oldest surviving cultures, its people have countless rich traditions and ideas to share with the whole world, both Indigenous and non-Indigenous, if they are willing to listen and learn. In order to make this possible, the Yolngu hold a three day, annual Garma Festival. The word Garma means "Coming Together in Harmony". This coming together is of all people, where everyone is invited to witness, celebrate and learn about the Yolngu's traditional practices, beliefs and art.
Legendary Australian actor, Jack Thompson, a long-time supporter of the festival is our narrator through this well-known but in many ways, unknown way of life. While pretty much every Australian can recognise a didgeridoo, very few understand their significance, or why Aboriginal people care so much about the land and how they consider themselves in relation to all humans that inhabit the earth, past and present.
When Kenneth Little Hawk, an elder Micmac/Mohawk performing artist from New Jersey flies halfway around the world to meet the Yolngu, despite their differences, they see each other as family. This is not just because their cultures faced similar political struggles and discrimination, it was because Little Hawk approached the community with wishes of love and happiness. This mutual compassion allowed the Yolngu and Little Hawk to connect as part of the one human family.
The film covers a lot of unknown or misunderstood aspects of Aboriginal culture, with Jack Thompson's inimitable voiceover breaking down all of the ceremonies and items shown in the film for the layperson. When faced with cultural difference, it is often easy to feel overwhelmed and even alienated. However, this film provides a truly moving experience, showing the beauty in seemingly little things. To put it dramatically, One Heart-One Spirit offers a solution for the quickening demise of the entire human race – show respect for each other and our world.
Following its bow at the Melbourne Documentary Film Festival, One Heart-One Spirit will tour colleges and universities around the world. The producers have created a 60-page Guidebook to Indigenous Wisdom based on 13 video clips from the movie (createkinderworld.org).

https://filmink.com.au/reviews/one-heart-one-spirit/

---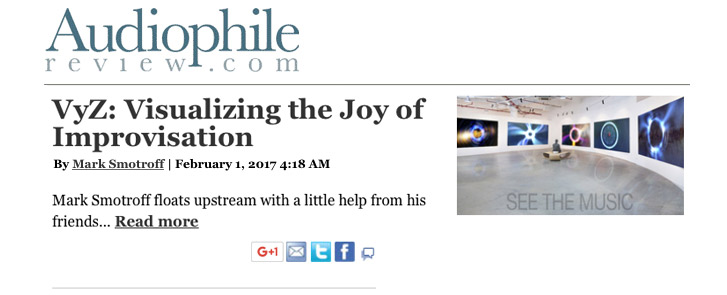 Audiophile Review 2/1/2017: One of the cool things about 21st Century communications is that it enables us to re-connect with people from our past in ways we never imagined before. That said, in the past several years I've re-connected with numerous old friends from way back via social media (a good thing about those platforms, I must admit).
Catching up with one of these folks recently on the flip-side of life -- me on the West Coast, he in the North East -- I have learned that since graduating high school, my friend John Pritchard went on to become a noted videographer, producer and film maker. He also continued his life long passion for music -- which is how we first met back in the day as like-minded music geeks -- cross pollinating it with his video arts, releasing several albums of improvised music video. His band is called VyZ (as in "improVISed"), with John on drums, Rich Damone on bass, Charlie Tokarz on woodwinds, and a very special guest performer in Miles Davis alumnus Adam Holzman (now on tour with the great producer and modern day prog rock visionary Steven Wilson).
The concept behind VyZ is that they make music together in the moment and then create impressionistic films that reflect the mood and spirit of the music. To support the band's latest release, Freedom: See The Music, Pritchard recently opened a virtual art gallery, displaying and offering some of the beautiful and phantasmagorical art prints created out of the improvs on their new album (which, by the way, is also available for streaming or on DVD). Its really fun stuff that I think some of you, Dear Readers of Audiophilereview.com, might enjoy.
The visuals revolve around computerized technology called Aeon by SoundSpectrum. Indeed, the pulsing, shape-shifting modern psychedelic images seem to dance in perfect synergy with the music, which is no small feat given that what they are playing is largely free form, jazz type music. The visuals have been augmented with really cool snippet imagery from nature, everything from worker Ants clamoring out of their nests to Rams bucking horns to people dancing. Somehow, the images complement the wordless music to deliver a higher message. "My purpose for creating art is to surprise and inspire both the viewer and myself," said Pritchard in a statement from the band's website. "I constantly improvise and experiment with visual-musical form, motion, light and energy. This originates from my deep love for fusing music into art." Thus...VyZ's tagline: "See The Music!" So, what IS the music like, you ask?
Well, it is a series of improvised, free form jams which traverse a variety of styles and forms. For example, there are spacey explorations not unlike The Grateful Dead's "Dark Star," a piece which develops a theme which allows the band to drive on from there into the stratosphere. There are other jams that are a bit more rhythmic and groove oriented in the vein of cross over jazz/jam band Medeski, Martin and Wood or perhaps some recordings by another Miles Davis alum, John Scofield. I'll put it this way: if you like some of the more exploratory modern jazz albums released by the legendary European label ECM, you may well dig VyZ.
There is an overall mood created by this music and I suggest you make some time late at night to put it on and just let yourself flow into its current. Freedom: See The Music is presented in a pleasing basic Dolby 5.1 surround mix (as well as two-channel stereo). I'd love to hear a version of VyZ created for higher resolution formats, perhaps put out on Blu-ray and with a very discrete Dolby TrueHD or DTS HD Master Audio quality soundtrack. Hopefully for the next release!
Some of my favorite tracks on Freedom : See The Music so far are:
"On The Border," which blends world-beat and hip hop flavors to the jazzy improvs while mining some tonalities this side of vintage Return To Forever (classic Fender Rhodes keyboard sounds played in a wonderful Chick Corea-like flavor) by way of some darker edges ala early King Crimson. It gets a little intense at times (as Ants climb out of their nest and Rams butt their heads!).
"The Milky Way" is appropriately titled because the music -- and visuals -- take you on a trip into outer space....
"The Climb" delivers a lovely sense of air and floating amidst perky rhythm beds, sounds which no doubt inspired the choice of above-the-world visuals.
"Freedom March" dances around keyboard and saxophone riffing before morphing into a quiet, peaceful and timely closing reflection on our times. And, yes, I was able to pull that sort of deeper meaning out of VyZ's compelling combination of improvised music and visuals... and you can too!
John Lennon's classic Beatles tune "Tomorrow Never Knows" once urged people to "Turn off your mind, relax and float downstream..." Well, relating to VyZ, I would modify that phrase a little bit: "Turn on your mind, relax and float upstream..." If you like free form expression and supporting independent music of a high caliber, VyZ could be a cool thing for you. Check it out.

http://audiophilereview.com/audiophile-music/vyz-visualizing-the-joy-of-improvisation.html


---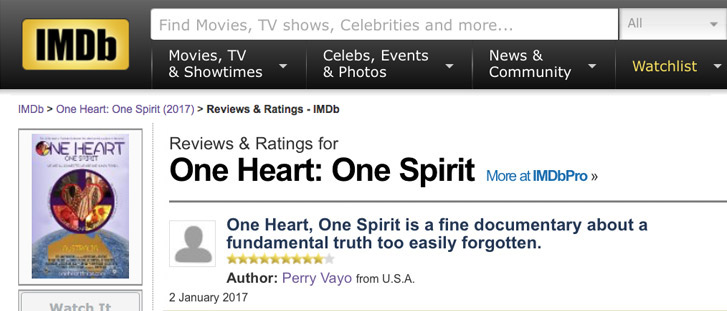 ONE HEART - ONE SPIRIT REVIEWS
One Heart - One Spirit is a fine documentary about a fundamental truth too easily forgotten.
January 2, 2017 - IMDb Film Review
One Heart, One Spirit is an awesome film, exploring the spirit of some awe-inspiring people! Their ancient message of unity and compassion is one whose time has truly come! The film makers and Kenneth Little Hawk do an excellent job of creating a truly global story with truly world-wide implications.
Little Hawk, the renowned Native American story-teller is the ever present glue to the film. He is the "cultural ambassador", whose genuine and warm spirit, effortlessly demonstrates how much more similar we all are than different, regardless of where on the globe we happen to be from. He is the welcoming, good-hearted, bridge between worlds that makes you want to believe that we are all truly, one.
Watch this film, if you dare to walk away feeling less cynical and more connected.
—Perry Vayo, Academy Award-winning screenwriter/Media Producer

One Heart - One Spirit shows us the harmony we need to ward off an apocalyptic future
December 10, 2016 - Indigenous Film Reviews
ONE HEART-ONE SPIRIT shows us the need to discover the threads and emotions that bind different cultures together, the harmony we need to ward off an apocalyptic future. Underneath the unnatural boundaries societies have created to mark their ways, their means, their lands, lies nations peopled by individuals who should seek the togetherness understood by the first nations. One Heart explores these themes by documenting the journey of Little Hawk, a Native North American, to the renowned Garma festival, Australia's most significant Indigenous event, and a model for self-determination, reconciliation, Indigenous knowledge sharing, transfer and exchange.
—David Greenberg, Director of Marketing, MusicWorks International
---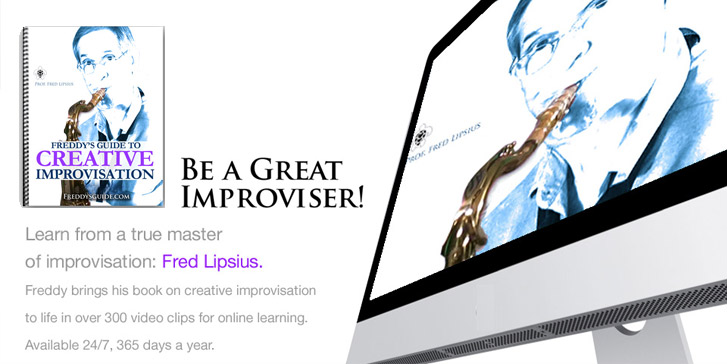 FREDDY'S GUIDE TO CREATIVE IMPROVISATION QUOTES & REVIEWS
"Freddy's Guide to Creative Improvisation is an eminently usable reference from a brilliant cat!"
— Paul Shaffer, Musical Director of the Late Show with David Letterman
"This is one of, if not, the most comprehensive book on improvisation that I have yet encountered. The student (or professional) is led systematically into getting beyond the rote learning of patterns and cliches, into understanding the spontaneity and creativity that is true jazz improvisation."
— Randy Brecker, played trumpet with The Brecker Brothers, Blood, Sweat & Tears, Steely Dan, Charles Mingus, Bruce Springsteen, and Frank Zappa
"Fred Lipsius has written a clear and comprehensive study on the art of improvisation."
— Eddie Gomez, bassist for Miles Davis, Bill Evans, Dizzy Gillespie, Benny Goodman, and Herbie Hancock
SAXSHED REVIEW by Skip Spratt - March 21, 2012

Saxophonist Fred Lipsius has recently produced a new website catering to jazz saxophonists and improvisers alike. The innovative and comprehensive site called Freddy's Guide to Creative Improvisation offers players of all levels an interactive series of lessons for a modest subscription fee.

Many may know Fred Lipsius as the original saxophonist, arranger and conductor with Blood, Sweat & Tears (1967-71). While with BS&T he earned several Gold Records as well as two Grammy Awards for his arrangements with the band. In addition to his official accolades, many jazz historians credit him as being a pioneer of jazz-rock saxophone.
In the years since Blood Sweat and Tears, Fred Lipsius has performed with Simon and Garfunkel and a host of name jazz artists such as Cannonball Adderley, Thelonious Monk and Zoot Sims. Originally from New York City, Fred resides in Boston where he is an Associate Professor at Berklee College of Music.
I have known Fred Lipsius for the past few years to be a highly creative person involved with his digital art as well as other more spiritual and improvisational recordings. Freddy's Guide to Creative Improvisation showcases his personable approach coupled with his knowledge of theory and the creative mind.
The initial membership to the site includes a 188 page, downloadable book in .pdf format. Options are available for hard copies of these and other publications as well. The online instruction is divided into three main sections; Licks, Blues Scales and Improvising and Composing Techniques. Each of the topics is subdivided into smaller units and accompanying videos.
Although Fred Lipsius is primarily a saxophone player, several video examples are presented on piano and the method is suitable for use with any instrument. The complete course of study can be completed at your own pace and represents what may be semesters or years of practice to digest.
Kudos to Fred Lipsius for developing and presenting this inventive method for jazz improvisation. Freddy's Guide to Creative Improvisation offers soloists a wealth of information to learn and apply to their own playing – for years to come!
FREDDY'S GUIDE REVIEW by David Valdez - April 5, 2012
There have been a ton on new multimedia Jazz educational products coming out lately. It seems that the Jazz world is really starting to take full advantage of the digital age, better late than never I guess. Some of these products are online video lessons, some are play-along CDs, and some are full interactive multimedia DVDs.
One of my teachers when I was at Berklee who was a big influence on me was Fred Lipsius. I posted an interview with Lipsius a while back. I took several ensembles with Fred, so I didn't get a lot of material directly from him other than getting to listen to him play, which was inspiring in itself. I really got to understand his concepts through studying his books. In 1986 Warner Brother's published an incredible book that Lipsius wrote called The Complete Book on Creative Improvisation. That book was a goldmine of material for me and shaped the way I thought about Jazz improvisation to this date. It was was worthy of being called 'the Complete book' because is covered so much ground. It had a ton of great musical phrase and licks in every key and for chord type and then it went in to great depth on how to manipulate, develop, and apply these licks to all different types of musical situations. Lipsius really presented a high flexible and creative alternative to the typical rote memorization approach that is too common in Jazz education. The licks in the book were all super hip, but the important thing was to see how to take any existing musical idea and apply it in numerous ways over different harmonic situations.
Lipsius' Complete Book on Creative Improvisation went out of print shortly after it was first published and after loaning my copy out I was never able to get my hands on another one, though I saw a few on Amazon for upwards of $100. I was quite excited to hear that Fred had released it again himself, this time is in full multimedia format. There are hundreds of videos online on 3 DVDs that feature Lipsius playing individual musical ideas, talking about what he was thinking about when he came up with them and how to apply each one. You can also now buy a hard copy of Lipsius' book for $19.95.
---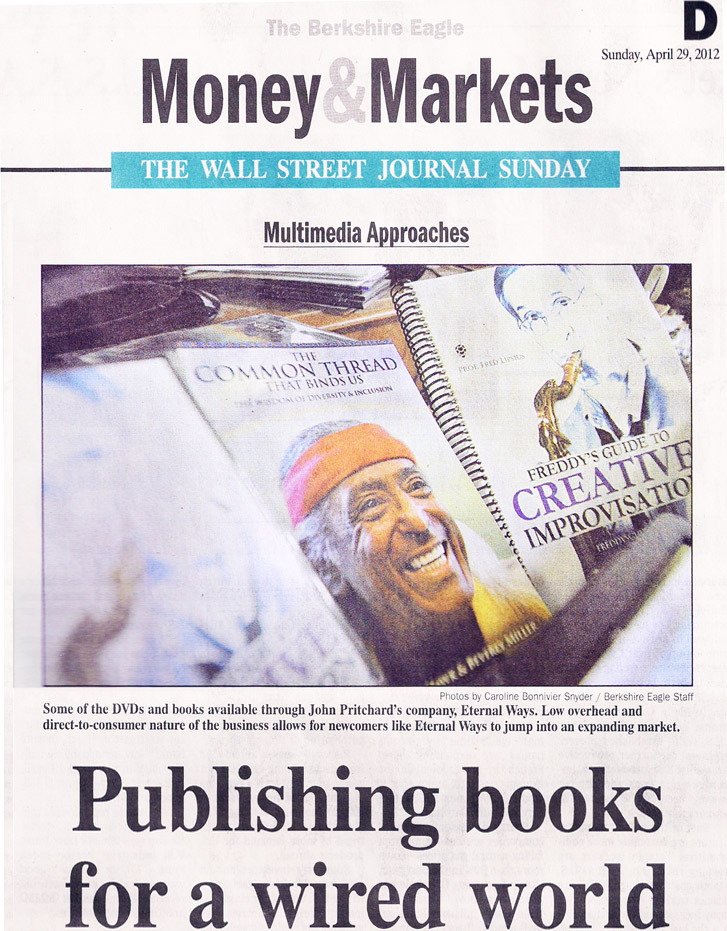 By Andrew Flint,
Sunday April 29, 2012
Special to The Eagle
WILLIAMSTOWN -- With Kindles and iPads rapidly replacing paperbacks and magazines, it's clear that technological change is afoot in the world of publishing.
John Pritchard, the creative force behind his multimedia publishing company Eternal Ways, sees this change as both inevitable and exciting.
"The publishing business is going through a renaissance." says Prit chard, 51, who keeps an eye on the industry's giants while cultivating his two-year-old boutique business. "Very serious companies such as Random House and Scholastic have recently converted thousands of books, big chunks of their libraries, to be compatible with the iPad and Kindle. This is rapidly becoming a billion-dollar business."
Pritchard's observations are supported by industry data. A report released by the Association of Ameri can Publishers last month revealed that e-book sales rose 117 percent in the past year, with over a third of print publishers now offering catalogs in formats geared toward e-book readers.
Distributing giants like Amazon are leading the sales pack in terms of market share, but the low overhead and direct-to-consumer nature of the business allows for newcomers like Eternal Ways to jump right into a swiftly expanding market.
"The goal is to develop multimedia properties for the iPad and Kindle, as well as the Web itself because anybody who has a browser can then access it." says Pritchard. "I have projected for exponential growth of my business over the next three years because of this focus on e-books with video."
His young business currently offers three titles, each an example of Pritchard's novel approach to tech-savvy publishing. "Reawaken," an experimental documentary narrated by Native American storyteller Kenneth Little Hawk, is available to watch free online or to purchase as a DVD. The project will be released as a movie-in-a-book for the iPad in May.
A second title, "The Common Thread that Binds Us," is a book of stories and insights provided by Little Hawk, also accompanied by a collection of videos hosted online.
"Freddy's Guide to Creative Im provisation," perhaps Eternal Ways' most unorthodox publication, illustrates the company's ingenuity and range of focus. This interactive music lesson, hosted by Grammy Award-winning saxophonist Fred Lipsius of the band Blood, Sweat & Tears, is available as an online video-training program, a printed book, and a three DVD set. All, of course, are directed by Pritchard.
"It's a unique product because not many people are moving their music books, with sheet music, onto the Web with online video." says Pritchard, highlighting the benefits of his progressive endeavor. "You have the instructor there on demand. Fred Lipsius has been teaching at Berklee College of Music for the past 25 years, and now he can teach you wherever and whenever you want on your iPad, Kindle, Mac, or PC. In five or 10 years this is going to be common practice."
The majority of Eternal Ways' sales are made through Amazon, but Pritchard aims to grow the business in the coming years and focus more on Apple's iBookstore and direct web sales.
"There's never been an accessible way to publish to the masses like there is today with a good website and some PR." says Pritchard, whose business philosophy places a heavy emphasis on the potential of the individual and the importance of community.
This populist view of the online marketplace comes in stark contrast to the corporate-driven atmosphere in which Pritchard used to work. Soon after graduating from St. Lawrence College. where he studied filmmaking, Pritchard encountered a high demand for audiovisual production geared toward the Internet.
"I worked with a lot or Fortune 500 companies, particularly Apple Computers, in the heyday of the multimedia scene." he says, discussing his initial post-college forays into net-based publishing. "My claim to fame in New York City was getting an entire city guide onto a single floppy disk. This put our company of two guys on the map in 1988."
The 1990s found Pritchard applying his filmmaking and interactive design skills to a variety of corporate projects in New York and Boston. He produced nationally televised commercials, worked on CD-ROM-based educational software for Microsoft, and helmed an early Youtube-like service which helped filmmakers and musicians promote themselves on the Web.
"As soon as video came on the scene in 1991, the whole multimedia thing just exploded." says Pritchard. "I got into the tech side of things early on too, and that became my key for making money. When you know both sides of the business, creative and technical, you can cut out a lot of additional costs."
This was all before the Web 2.0 movement brought online video hosting, publication, and promotion to the novice with user-friendly services such as Youtube, Facebook and Twitter. Far from mourning the era of corporate-dominated online content, Pritchard took this opportunity to open up shop on his own terms.
"Traditionally, to promote publications, you had to get covered in the local newspaper, or maybe get something in The Boston Globe or New York Times if you were lucky." he says. "Now Facebook, Twitter, and Youtube are my primary marketing vehicles. And they're still in their early stages."
Industry know-how and ac cess ible means of promotion freed him to Williamstown, where his parents live, and start publishing on his terms.
"The really cool thing about the Berkshires is that it's full of creative people." says Pritch ard. "And Eternal Ways is always looking for talented artists who want to publish their works on iPad, Kindle, and Web platforms with video. My goal in the next five years is to grow this thing out to 50 titles."
Pritchard finances Eternal Ways through his Pritchard Digital Arts online video production company, in business since 2000. It is his primary source of income.
Book projects are a 50/50 partnership. The author writes the book and Eternal Ways does the packaging, video production, online promotion and publishing, he said.
"I am primarily interested in working with teachers and college professors who have something educational and positive to contribute to the world. I am also looking for filmmakers who want to use my proprietary Movie-in-a-Book process to create companion books to expand upon the educational content of their movie. My 'Reawaken' Movie-in-a-Book in coming out for the iPad on May 22.
As for payment, he said, the author is paid 50 percent of the profits every month.
Despite his affinity for video and other emerging technological trends, writers who collaborate with Eternal Ways can rest assured that publication of the works in e-book format will not signal the death knell for ink-and-paper printing.
"Print will never die. There is nothing that will replace the feeling of print in your hands." says Pritchard, who sees e-publishing as anything but antithetical to its tangible forebear. "There's a myth that the e-book is going to replace the printed word. That's like saying Youtube is going to replace commercial television."

http://www.berkshireeagle.com/stories/area-firm-offers-print-dvd-ipad-and-kindle-titles
---
MEDIA CONTACT

John Pritchard
ETERNAL WAYS
150 Candlewood Drive
Williamstown, MA 01267
Phone: (413) 203-4444
Email: john@eternalways.com

Learn more about John Pritchard at www.GetMoreCreative.com.